Rated #1 Your Best Choice for Hosted Pbx Canada
Tel-Systems hosted services are Rated Best in it's Class winning numerous awards.
What is Hosted PBX or Cloud PBX – Hosted Pbx is everything a Premise based PBX is but over the cloud instead. Please enquire about our award winning hosted solutions today because we can help you find a cost affective solution to better your communications system.
Our Award Winning Advanced Hosted PBX and Cloud PBx with Full Redundancy is 100% owned by Tel-Systems and has been in operation for 30 Years, We are no stranger to this technology with a proven track record and 99% Uptime. We are not a Reseller and save yourself the time and hassle of Middle Man Syndrome where you get caught in the middle of no-one taking responsibility for failures. Rest Assured we've got you covered. Chosen as the Best Phone System for Small Business in Canada. So what are you waiting for call us now for your free 14 Day trial. So Sign up Today
Its Easy? Get our Free 14 Day Trial and we will Install the best small business phone system including Tel-Systems Advanced Hosted PBX Cloud Phone System and Small Business Voip Phones.
Best Hosted PBX Canada Features
Learn about Tel-Systems Best hosted PBX Canada and find
out how we can save your business money.
Featured Calling Plan
Unlimited Canada and USA calling plus all
calling features included.
Call Features included
HD Voice quality VOIP ( Voice over IP ) phones Multiple Sip Devices.
Auto Attendant and dial by extension.
Voicemail and Voicemail to Email.
Remote phone capability (and work from home or remote offices).
SoftPhone for PC, MAC, iPhone and Android.
DID number included per subscriber. Like your Main Phone Number
Web based Call Reporting. See all your Call Traffic Live
ACD Call Center – Optional.
24×7 Call Recording – Optional.
Browser based phone control, manage your desk phone through a browser – PC, IPad and Mobile Device .
Desktop Call Control from your PC and Mobile Devices.
Mobile Twinning – ring your desk and cell at the same time and transfer back and forth.
Multi party conferencing so your meetings are more productive.
Conference bridge – Optional – Allows for Scheduled Conferencing.
Internet Fax
Discover more about our Eco Friendly Internet FAX.
Save on paper or toner and be Eco minded.
No need for a Fax machine because faxes are emailed to you.
Works anywhere you have internet so you can be anywhere.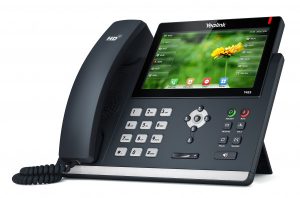 Yealink T48 Sip Phone
Panasonic-KX-HDV430
Panasonic HDV430 Voip Phone Color
LIMITED-TIME ACTIVATION FEES DISCOUNT!
************************* Note *************************
Unlike our Competitors we have certified technicians that actually come to your office to install the phones and we test it, train you and make sure you are 100% satisfied with the product. Our Competitors ship you the phones and expect you to install them which costs you not a day but sometimes days of valuable work time. Please Note all Hosted services are minimum 3 year term unless customer chooses for a lesser term. Applicable costs will be applied. Call our Sales Department for a Free Consultation and Quote.